Description
Mercedes-AMG E 53 4MATIC + Night Edition Premium Plus Saloon
Ready to measure even the greatest challenge with ease. Discover the outstanding features of the E-Class Saloon. As dynamic, elegant and luxurious as never before. The expressive design ensures an agile overall impression. The E-Class Saloon scores points on several counts with its fine materials and intelligent innovations.
ENGINEERING & DESIGN IN SYNERGY
Mercedes-AMG E-Class Saloon.
For years the Mercedes-AMG E-Class Saloon has been the ultimate performance
saloon. Explore some of the technical highlights that make for such a dynamic
driving experience in the Mercedes-AMG E 53 4MATIC+.
ENGINEERING & DESIGN IN SYNERGY
Elegance in top form.
You can see its dynamism. The elongated bonnet with power domes, restyled headlamps, and modern rim designs lend the E-Class Saloon a progressive appearance.
ENGINEERING & DESIGN IN SYNERGY
First impressions count.
The Mercedes-AMG E 53 4MATIC+: the entry point into the world of Driving Performance of the E-Class. With an all-round breathtaking and dynamic design – as demonstrated by the completely redesigned front view – the performance E-Class has an even more powerful appeal.
The interior of the new models welcomes the occupants with appointments that are specific to AMG, luxurious materials and the latest generation of the MBUX infotainment system. Performance has never been as tangible as this - with the new generation of the AMG Performance steering wheel you sense the precision of every reaction, while the AMG steering wheel buttons keep your mind focused at all times.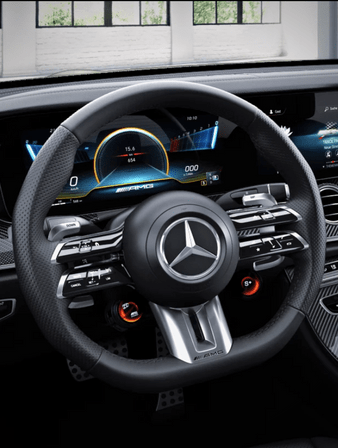 ENGINEERING & DESIGN IN SYNERGY
ENGINEERING & DESIGN IN SYNERGY
ENGINEERING & DESIGN IN SYNERGY